Aerotricity Ltd., after a careful and time-consuming study, has identified a suitable site on the mountain hills at the Kambi village near the village of Palechori in the central part of Cyprus the for establishment of a Wind Park.
Phase A of the project included the installation of 3 Enercon E-53 Wind Energy Converters (WEC) with rated power of 800kW each, resulting in a total production of 2.4MW of power. The project is in operation since 2012. The second part of the project, Phase B, includes the installation of one more Big turbine which will produce up to an additional 7.2MW. This will optimally bring the total capacity of the park to 9.6MW of power.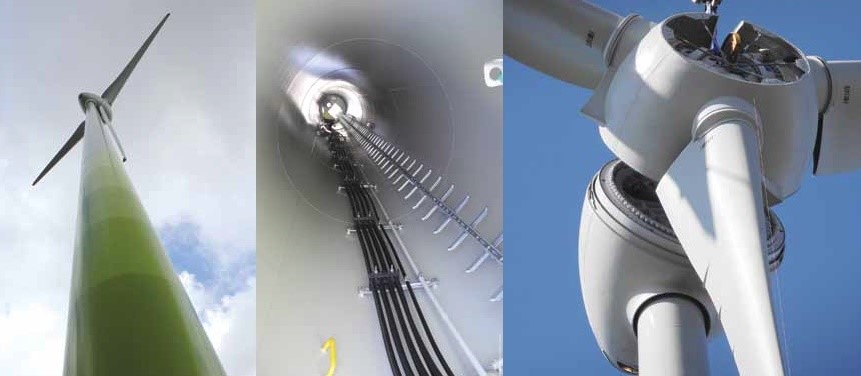 The selected site has good access roads from the Limassol port for turbines up to 55 meters in diameter. The route to the site is approximately 20km highway, 30km two lane asphalt road, 10km asphalt road and 1.5-2km earth road. The road was upgraded in order to be able to carry the 3 E-53 WEC to the site and will also be used to implement Phase B as well.
Most of the required land has already been purchased by the promoters and an application for long term leasing (33 years) of the adjacent Government land has also been filed in and approved.
The electricity produced by Phase A is fed into the Cyprus National Grid owned by the Electricity Authority of Cyprus and sold on the basis of a Power Purchase Agreement to be concluded with the Transmission System Operator and the Electricity Authority of Cyprus.
With the completion of Phase B of the Wind Park, electricity will be sold via an Aggregator (via the subsidiary company of Aerotricity Ltd, Seth-CER Ltd).
The project is expected to lower the total greenhouse gas emissions of the island as it will reduce the need for electricity generated by thermal power plants.
The local Authorities are fully behind Aerotricity's plans for the project. They have been very supportive and helpful in identifying the land owners and in giving prompt and positive recommendations to other Authorities. Local contractors were involved in the development of Phase A of the project, and the same is expected for Phase B.
Environmental impact assessments have been carried out by the Environmental Service Department of the Government, showing minimal impact to the flora and fauna of the area.